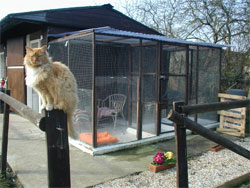 Katz Kingdom Kattery is able to provide accomodation for up to 26 cats at any one time due to the 14 spacious, large pens that we have available.
Each pen is bright & airy for your cats comfort and kept to a very high standard of hygiene & decor. Every pen also has the benefit of scratch posts, a selection of shelving, heated beds and plenty of cosy bedding. Of course, there is no problem if you wish to provide extra bedding yourselves to help make your cat feel more at home.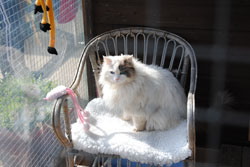 Outside runs (complete with garden chairs) are available for your cats to stretch their legs; giving them the chance to have a run around or just sit majestically, in the midday sun... topping up their tan.
The cattery is on the same premises as our own accomodation so we are available 24/7 to pamper to each individuals cats needs and provide that extra special care & attention, according to your instructions.
Flying from Southend Airport? Why not drop your beloved cats into us on the way as we are situated in quiet greenbelt not very far from Southend Airport. If you want to have regular news or photos of your cats whilst you are away why not join our facebook group and we will happily update you.